A twist on a breakfast/brunch classic…Avocado toast! We add layers and layers of flavor to make this recipe the ultimate avocado toast! Click to watch this recipe come to life.
The Ultimate Avocado Toast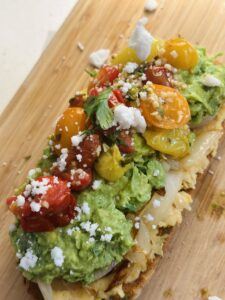 I'm sure you've had avocado toast before, but I guarantee not like this!
Get ready to pile on the flava!
    Total Time 30 mins
      Servings 2-4
                      Ingredients
3-4 avocados
sliced bread (Italian, sourdough, multigrain, your choice)
1 can chickpeas (15oz)
olive oil
1 white or yellow onion
1- 2 teaspoons minced garlic
grape tomatoes (I used the private selection medley)
pesto
cilantro
1 lime
salt + pepper
dairy-free feta for topping
                   Directions
In a medium-sized pot, boil chickpeas for 20 minutes or until soft enough to mash easily with a fork.
While the chickpeas are cooking, slice the onion, half the tomatoes, and chop the cilantro.
Half, deseed, and scoop avocados into a large bowl.
With a fork or masher, mash avocados until creamy or desired consistency.
Squeeze half of the lime, add chopped cilantro, and season avocados with salt and pepper to taste. Set aside.
Once chickpeas are soft, drain and transfer to a mixing bowl.
With a fork or masher, mash chickpeas until semi-smooth.
Add a drizzle of olive oil then combine until smooth. Salt to taste then set aside.
In a medium to large sauté pan, heat a drizzle of olive oil then add sliced onion.
Sauté until soft and onions are slightly brown. Around 5-6 minutes. Set aside.
Heat a drizzle of olive oil in the same or smaller pan. Add 1-2 teaspoons of garlic and cook briefly for 30 seconds.
Add tomatoes and sauté until slightly soft. Around 2-3 minutes. Set aside.
It's time to assemble! Start with a toasted piece of bread.
Spread a nice layer of pesto as the base.
Next, spread an even layer of our chickpea hummus. Followed by a layer of caramelized onions.
Finally, it is time to put the avocado in avocado toast! Add a decent layer of our avocado spread and top with the sautéed tomatoes!
Garnish with dairy-free feta and cilantro then you're ready to enjoy!