Delicious and easy mini fruit tarts, dairy-free pimento cheese, and bacon sandwiches plus a refreshing cucumber and salmon sandwich with dairy free herb cream cheese! TEO Sherolyn Sellers joins us on this special episode of Cooking with Flava with Ava from the Urban Tea Party based in Atlanta, GA, to celebrate the tea, Lapsang Souchong by both brewing and cooking with it! Click video above to watch these recipes come to life step by step!
Mini Fruit Tarts with Apricot Peach Glaze & Fresh Fruit
Easy to make yet full of flavor. These mini fruit tarts are sure to impress!
Total Time 40 mins
Servings 6-8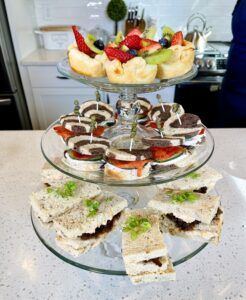 Ingredients
2 sheets of pastry dough

1 cup oat milk

4

 eggs

2

 

tablespoons

freshly squeezed lemon juice

5

tablespoons

flour

1 1/2 cups powdered sugar

1

teaspoon

vanilla paste

1 dash of salt

2 kiwis
1 cup diced strawberries for filling
4-5 strawberries for garnish
handful of blueberries for garnish
Apricot Peach Glaze
1/4 cup of apricot jam
1/4 cup peach jam
1-2 tablespoons of water
 Directions
Preheat the oven to 350 degrees.
Dice strawberries for filling until you have 1 cup.
In a large mixer, combine milk, eggs, lemon juice, and vanilla paste.
Add sugar, flour, and salt. Mix to combine.
Add diced strawberries and lightly mix them together.
Cut pastry sheets into 4 x 4 squares or big enough to cover the pan but not overflowing with dough
Gently with your hands, stretch the pastry dough and fit it into your greased cupcake or muffin pan.
In a small bowl, combine apricot jam, peach jam, and water into one mixture.
Brush the inside of each fruit tart with the apricot peach glaze  (This helps your pastry not get soggy while baking).
Using a measuring cup or pouring device, carefully pour the custard into each cup filling to a little under halfway. Leaving room for the custard to rise and bake!
Bake tarts for 25-30 mins or until the filling is no longer giggling and the crust is slightly golden.
While your tarts are baking, thinly slice strawberries and kiwi for garnish.
Once your tarts have cooled, brush a thick layer of the apricot/peach glaze on top.
Finish tarts by placing strawberries, kiwis, and blueberries on top in a way you deem beautiful and enjoy!
Dairy Free Pimento Cheese & Bacon Jam Tea Sandwiches
A twist on a southern classic! Warning: these sandwiches are extremely delicious!
Total Time 30 mins
Servings 6-8
Ingredients
12 oz or one container of dairy free sour cream (I like to use the brand Tofutti)
16 oz or two 8 oz containers of dairy free cream cheese (same brand as above)
8 oz bag of dairy free cheddar cheese
4 oz or 8 oz of jarred pimento peppers (I used the brand Cento) (8 oz gives more pimento flavor)
2-3 chipotle peppers in adobe sauce from can
salt and pepper to taste
1 tablespoon fresh lemon juice
1 tablespoon fresh scallions for garnish
1 loaf of sliced wheat or white bread slices
Bacon Jam
1 tablespoon olive oil
1 white onion diced
4-5 strips cooked bacon
1 cup brown sugar
1 teaspoon salt
1 teaspoon pepper
1 cup water
3/4-1 cup champagne vinaigrette or your choice of vinaigrette
2-3 tablespoons of fig jam
2-3 tablespoons Lapsang Souchong (I used the Urban Tea Party Brand ofc.)
 Directions
Crush lapsang souchong with rolling pen in a bag or until it becomes nicely grounded.

Heat a tablespoon of olive oil in a medium pot or pan then add diced onions allowing to simmer until soft (around 3-4 minutes).
Add crumbled pieces of bacon, brown sugar, and water and stir together.
Next add champagne flavored balsamic vinaigrette or your balsamic vinaigrette of choice, fig jam, Lapsang Souchong and salt and pepper.
Allow bacon jam to simmer for 25-30 minutes then set aside to cool until jam reduces and thickens.
Prepare bread by cutting the crust off on each side then cutting each slice in half.
In a large bowl, combine room temperature cream cheese, sour cream, dairy free cheddar, pimento peppers, chipotle peppers, lemon juice and salt and pepper until all ingredients are married together.
It's time to assemble! Spread pimento cheese on one side of bread. Grab another slice of bread and spread bacon jam. Put both slices together creating our first two layers. Take third piece of bread and spread with pimento cheese finishing your tea sandwich by placing this slice under your existing sandwich. Basically you want two slices with pimento cheese spread, one with bacon jam with the bacon jam layer being in the middle.
Garnish with fresh scallions and enjoy!
Smoked Salmon & Cucumber Tea Sandwich with Dairy Free Herb Cream Cheese Filling
These refreshing and flavorful tea sandwiches are perfect for any tea party!
Total Time 20 mins
Servings 6-8
Filling Ingredients
1 pack of smoked salmon slices
1 cucumber
1 loaf of sliced rye bread
8 oz containers of dairy free cream cheese (I like the Tofutti brand)
3 tablespoons fresh scallions
1 tablespoon fresh dill chopped
1-2 tablespoons fresh lemon juice
2 tablespoons of capers saving 1 tablespoon for garnish
1 teaspoon salt
1 teaspoon pepper
Additional Supplies
toothpicks
biscuit cutter or small cup
 Directions
Using a biscuit cutter or small cup, cut circular pieces out of each piece of rye bread.
Cut cucumber into 1/2 inch slices.

In a medium sized bowl, combine room temperature cream cheese, chopped scallions, dill, lemon juice and salt and pepper.

Once combined, add capers and gently mix until capers are incorporated.
To assemble, take one rye circle and cover with the cream cheese and herb spread.
Next, add a cucumber slice followed by a piece or couple of pieces of salmon then place second rye circle on top.
Finish by threading 2-3 capers onto a toothpick then place toothpick in the middle of your sandwich.
Brew some yummy Urban Tea Party tea and Enjoy!