Best Rice Balls Recipe!
Click above to watch the first episode of Cooking with Flava with Ava! The tastiest bolognese sauce and a dairy-free spinach dip will fool any dairy lover!
 Giant Rice Ball Recipe 
Let's start with the foundation of our rice ball, the rice!
Total Time 35 mins
servings: a lot
Ingredients
 2-4 cups rice, depending on serving size
 salt + pepper
 Italian seasoning
 1 stick (8 tbsp) butter
2 eggs
 1 bag of dairy-free cheese or regular cheese
 water to boil
 choice of stock (chicken, veggie, etc.)
1 1/2- 2 tablespoons Italian seasoning (optional)
                       Directions
Let's begin! Combine water and stock in a large pot and bring to a boil.
Add rice and cook with a lid for 10 minutes or until soft.
Drain water from rice.
Add salt and pepper, butter, eggs, and Italian seasoning to warm rice and combine softly.
Be careful not to overwork the rice, or it can get mushy.
Transfer rice onto a baking sheet and spread out an even layer to cool until it is warm.
Your rice is ready to become a yummy rice ball!
Breadcrumb Mixture
Once our rice ball is completely stuffed, we will coat it in this breadcrumb mixture before frying!
                               Ingredients
One 8-ounce box of panko breadcrumbs
1/2 cup chopped fresh parsley
2 tablespoons Italian seasoning
                               Directions
For the breadcrumb mixture, mix the breadcrumbs, parmesan, and parsley in a bowl. Set aside until it's time to coat the rice ball.
The Best Bolognese Sauce
Once you make this bolognese sauce, you'll never want sauce from a jar again!
 Total Time 15 mins
 Servings:  6-8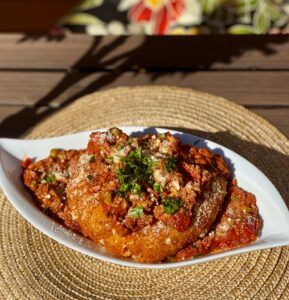 Ingredients
1 tablespoon olive oil
1 tablespoon minced garlic
1 onion chopped
1 pound of ground beef
2 carrots, diced small
2 stalks of celery, diced small
1/2 onion, diced small
3 tablespoons tomato paste
1 cup red wine
1-quart chicken stock
1 bunch of fresh rosemary
1 1/2 cups fresh peas     

 

1 bunch of fresh basil, chopped
1 bunch of fresh parsley, chopped
1 can of fire-roasted tomatoes
1/2 cup fresh chopped tomatoes
1 can garlic roasted tomatoes
1 can tomato sauce
6 cloves garlic, minced
salt & pepper to taste
1 tablespoon onion powder
1 tablespoon garlic powder
                    Directions
Heat oil in a large pan over medium-high heat.
Add onion and garlic to the pan and simmer for 5 minutes.
Add in ground beef and cook until brown. Season with salt + pepper
Add tomato sauce, diced tomatoes, fire-roasted tomatoes, and fresh tomatoes to the pan.
In a separate pan, sauté carrots and celery until soft for 5 minutes.
Add fresh chopped parsley and basil.
Add cooked celery and carrots.
Fold in peas.
Add red wine to the pan. Cook for another 10 minutes.
Reduce to a simmer and cook for around 30 minutes until the sauce has thickened.
Heat over medium heat, occasionally stirring, until the sauce is slightly thickened, about 15 minutes.
Season with salt and pepper to taste and finish!
Dairy-

Free

Spinach Dip 

Prepare your tastebuds! These rice balls are filled with a surprisingly delicious dairy-free spinach dip that is my go-to appetizer to make for friends and family! No one will be able to tell it's dairy-free!
Total Time 20-25 mins
Servings: 6-8
                  Ingredients
2 packs frozen Spinach or 2 packs fresh chopped spinach
1 onion chopped
1 tablespoon butter
3-4 tablespoons minced garlic

 

1-2 8 oz containers of Dairy-free sour cream

 

1-2 8 oz containers of Dairy-free cream cheese

 

Dairy-free mozzarella

 

Dairy-free cheddar
Dairy-free smoked gouda
Dairy-free parmesan
Canned or jarred artichokes (I like to use the Private Label brand)

 

Salt & pepper to taste

 

White wine is optional but recommended for more depth of flavor
                 Directions
In a large pan, sauté onions, garlic, and butter until soft, around 3 minutes.
Add frozen spinach and cook until soft. If you are using fresh spinach, add once frozen spinach is cooked down.
Add dairy-free sour cream, cream cheese, cheeses, garlic, chopped artichokes, salt, and pepper. Stir until well combined.
Add a splash of white wine (I used Chardonnay)
Simmer on low for 5-10 minutes until cheese is melted.
Spread the spinach dip mixture into the prepared dish.
If you want to be extra cheesy, top with the remaining mozzarella cheese, then broil in the oven for 2-3 minutes or until the cheese starts to brown.

Set aside to fill rice balls or serve with tortilla chips, bread, crackers, or vegetables!



How to Form and Cook Your Rice Ball
Scoop a large spoonful of rice into your hand, creating a shallow bowl shape. Once formed, add a good amount of the meat sauce inside your rice bowl. Add cheese and a little more meat sauce. Make a second "bowl" of rice and press it on top, forming with the other until it is one.
Be careful not to make your rice bowls too thick you want a nice ratio of rice to the filling!
Patch any holes with the remaining rice to prevent spillage in the fryer. The rice ball should be about the size of a baseball.
Repeat the same formation technique of the rice ball but this time, fill with spinach dip!
Heat oil to 325 degrees. Roll the rice balls in the breadcrumb mixture until completely covered.
Deep-fry until golden brown, 8-10 minutes.
Spoon the bolognese sauce or spinach dip on the bottom of each plate. Place a rice ball in the center of the dish. Top with more sauce, parmesan and parsley.
Enjoy!