Majestic Elegance Punta Cana Best Food On The Island
Discover the Majestic Elegance Punta Cana Resort and watch as Executive Chef Marcos and I cook some flavorful dishes on the beach! This red snapper is delicious, and the mango gazpacho is refreshing and flavorful! Click above to watch!
Beach Grilled Red Snapper with Red Pepper Sauce at the Majestic Elegance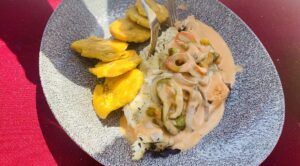 Get ready for some flavor! Don't worry if you don't have a beach, an oven is just fine.
Total Time 60 mins
Servings 4-6
Ingredients
1 whole red snapper
1 lime
1 head of garlic
1/2 cup olive oil
2 onions
2 red pepper
1 green pepper
1/2 cup coconut milk
salt + pepper to taste
banana tree leaves or some type of sturdy leaf
aluminum foil (if cooking inside)
          Directions
Get ready to make some flavorful fish!
Crush or mash fresh garlic and set aside.
Mix olive oil, garlic, and lime juice in a medium bowl.
Sauté onions and peppers until they are slightly softened, around 4-5 minutes.
Season fish with salt and pepper, then cover in marinade. For the best flavor, let fish marinade in the fridge for 2-3 hours.
Lay leaves on the grill or, if cooking at home, on a nonstick cooking tray.
top fish with caramelized onions and peppers, then cover with more leaves, or if cooking at home, and you don't have leaves use aluminum foil instead to cover fish
Cover snapper with sand. If you don't have a beach in your backyard, just use aluminum foil to cover the fish.
Cook fish for 20-25 minutes.
While fish is cooking, make the delicious sauce!
Combine grilled onions, red peppers, and coconut milk in a blender until a smooth sauce forms.
Season with salt and pepper to taste.
Remove fish from the oven and plate it with sautéed onions, peppers, and the red pepper sauce!
Enjoy!
Refreshing Mango Gazpacho with Tuna Tartare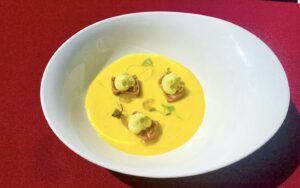 This soup is fresh and full of flavor! Perfect for the summer!
Total Time 60 mins
Servings 4-6
Ingredients
3 mangos
1/2 cup of water
1/4 cup olive oil
2 tablespoons sherry vinegar
sushi grade tuna
1/4 cup soy sauce
2 limes
1 tablespoon lime zest
sea salt
pepper
4 avocados
3-4 cloves of garlic
sprouts for garnish
          Directions
Mix soy sauce, lime juice from 1 lime, lime zest, and water in a medium bowl.
Cover tuna in the mixture and let marinade for 2 hours.
In a blender, puree seedless avocados, olive oil, garlic, lime juice, and a tablespoon of water. Transfer to squeezable bottle.
Time for our soup! In a blender, puree mango, water, olive oil, and sherry vinegar.
Season with sea salt and pepper.
Once the tuna is ready, pour mango gazpacho into a bowl. Top with tuna tartar slices followed by avocado cream.
Garnish with sprouts, herbs, or your choice of vegetation.  Drizzle with a little EVOO, and you're done!
Enjoy!
To book your next vacation at the Majestic Elegance Punta Cana, click here!