Grab your mimosas 🥂  because on this episode of Cooking with Flava with Ava, it's all about brunch! Learn how to poach an egg, make buttermilk biscuits, and a spin on classic breakfast potatoes! These flavorful fried chicken benedict and veggie frittata recipes will get anyone out of bed! Click above to watch these brunch recipes in action!
Fried Chicken Benedict on a Buttermilk Biscuit with Rainbow Potatoes
Rainbow Breakfast Potatoes
A twist on classic breakfast potatoes that adds a little color and flavor to any brunch!
Total Time 40 mins
Servings 4-6
                  Ingredients
1-2 8oz potato medley bags (mini purple, red & white potatoes)
2-3 sweet potatoes
3 stems fresh rosemary chopped
1 red bell pepper
1 yellow bell pepper
1-2 tbsps onion powder
1-2 tbsps garlic powder
1-2 tbsps Italian seasoning
1 tablespoon paprika
salt + pepper
olive oil
                 Directions
Preheat oven to 375 degrees.
Wash potatoes and peel sweet potatoes.
Cut potatoes and sweet potatoes into quarters.
Transfer to a bowl and drizzle with olive oil.
Chop and add rosemary, onions, red and yellow peppers.
Season potato medley with onion powder, garlic powder, Italian herbs, paprika, and salt and pepper.
Toss together lightly and transfer to a baking sheet, spreading an even layer.
Drizzle with a little olive oil and mix until potatoes are evenly covered.
Roast potatoes for 30 minutes or until crispy.
Top with fresh parsley and set aside until ready to serve!
Fluffy Buttermilk Biscuits 

Let's make the fluffy, buttery and flaky biscuits that will be the base for our fried chicken benedict!
Total Time 30 mins
Servings 8-10 biscuits

Ingredients
½ cup or 1 stick unsalted butter; if substituting buttermilk with oat milk, double butter
2¼ cups self-rising flour (I usually use White Lily)
1 ½ cups cold buttermilk or oat milk (dairy free)
pinch of salt
2-3 teaspoons of sugar
3 tablespoons melted butter to brush over biscuits
optional to add cheese & jalapeños or cinnamon
cheese grater
                 Directions
Preheat the oven to 470°F. Take butter out of the freezer and let thaw for about 5 minutes. The colder the butter, the better.
Add sifted flour to a large bowl.
Using the side of the grater with large holes, grate butter into the bowl with flour.
Toss together with a big spoon lightly or with your hands.
Add additional flavors like Italian herbs, cheddar cheese, cinnamon, and brown sugar for sweeter biscuits.
Place the bowl in the freezer for 10-15 minutes, depending on your hunger.
Pour the cold butter or oat milk into the flour/butter mixture and stir until dough begins to form.
The dough should be somewhat sticky.
Pour dough onto a lightly floured surface to prevent sticking.
Roll the dough into an 8″ x 10″ rectangle using a floured rolling pin.
Fold dough multiple times over itself to create layers in biscuits.
Repeat rolling and folding 2 – 3 times depending on how many layers you'd like in your biscuits.
The dough should be about 1/2 inch thick once ready to cut. Using a 2 or 3-inch biscuit cutter, cut out biscuits making sure not to twist when pulling up to remove.
Place biscuits in a lightly greased 9-10 inch skillet close together.
Bake for 15 to 20 minutes or until lightly golden.
With 2-3 minutes remaining, brush melted butter over the tops of biscuits for a golden buttery finish.
Enjoy!

Fried Chicken Breast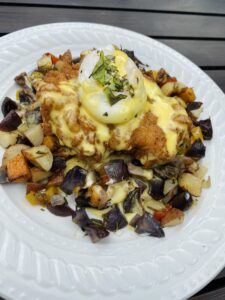 This fried chicken recipe is full of flavor and easier than you might think!
    Total Time 20 mins
      Servings 4-6
                     Ingredients
3 cups all-purpose flour
5 tablespoons seasoned salt
4 tablespoons pepper
2 tablespoons garlic powder
1 tablespoon onion powder
2 teaspoons cayenne pepper
4-6 chicken breasts
1 cup buttermilk
oil for frying
                   Directions
Preheat fryer to 325° degrees.

 

Mix seasoned salt, garlic powder, onion powder, cayenne pepper, and flour in a large, shallow bowl.
Pour buttermilk into another shallow bowl.
Cover chicken breast with plastic and beat with a mallet until 1/4 inch thick.
Remove plastic and transfer chicken breast to flour mixture, then to buttermilk.
You can soak your chicken breast in the buttermilk overnight for extra tender chicken, but if rushed for time, transfer the chicken back into the flour mixture and prepare to fry.
Cook chicken in the fryer for 7-8 minutes or until golden.
Once cooked, place on a paper towel-lined plate to remove excess oil.
Set aside for benedict or enjoy!

Easy Hollandaise Sauce 
Hollandaise sauce doesn't have to be complicated to be delicious!
Total Time 10 mins
Servings 1/2 cup
                  Ingredients
2 extra-large egg yolks, at room temperature
1 1/2 tablespoons freshly squeezed lemon juice
3/4 teaspoon kosher salt
1/4 teaspoon freshly ground black pepper
pinch of cayenne pepper
6 tablespoons (3/4 stick) unsalted butter
                 Directions
Juice lemon.
Place egg yolks, lemon juice, salt, black pepper, and cayenne pepper into a blender.
Blend on low speed for 15 seconds.
Slowly add hot butter to the mixture and blend for 30 seconds, until the sauce is thick enough to coat the spoon…and you're done!
Use immediately or reheat before use.

How to Poach an Egg

I've always wondered how to poach an egg, and it's not as difficult as you think!
Total Time 10 mins
                  Ingredients
1+ eggs
splash of white vinegar
water to boil
small bowl
mesh ladle (optional)
                   Directions
Bring water and white vinegar in a medium pot to a boil, then cut the heat.
Crack an egg into a mesh ladle, then transfer to a small bowl.
With a large spoon, quickly create a vortex by stirring water in a circular motion.
Once the vortex is formed, gently drop the egg into the center of the vortex.
The water will do the rest! After 3-4 minutes, your egg should be perfectly poached!
How to Assemble Fried Chicken Benedict
Create a circle of rainbow breakfast potatoes on the plate.
Place biscuit in the center of the circle of potatoes.
Top biscuit with fried chicken breast followed by the poached egg.
Drizzle hollandaise sauce over your benedict.
Chop and sprinkle basil or fresh herb of your choice on top and enjoy!
Fresh Veggie Frittata

Get creative with your eggs and impress your friends and family with this veggie frittata! Super fresh and full of flavor.
Total Time 15 mins
Servings 4-6
                   Ingredients
6-8 eggs
1/4 cup almond milk (optional)
1 cup shredded dairy-free mozzarella cheese divided
1/4 cup onions chopped
1 cup red bell peppers chopped
1 green bell pepper chopped
1 yellow bell peppers
frozen or fresh chopped spinach
your choice of meat: bacon, ham, sausage, vegan chorizo the options are limitless

1/2 cup cherry tomatoes sliced

minced garlic

salt & pepper 

1-2 teaspoons onion powder
1-2 teaspoons garlic powder
1-2 teaspoons Italian seasoning
3-4 dollops of pesto
Rosemary
                   Directions
Preheat the oven to 350° degrees.
Cook bacon or meat of choice and set aside for later.
Heat a drizzle of olive oil in an oven-safe pan or cast iron pan over medium-high heat.
Add garlic, onions, peppers, and spinach to the pan and cook for 3-5 minutes until vegetables soften.
Whisk eggs together, then add Italian seasoning, onion powder, garlic powder, salt & pepper. Set aside.
Tear or chop bacon and add to a pan with vegetables, then mix to combine.
Pour egg mixture on top of sautéed vegetables.
Spread the egg mixture evenly across the vegetables with a spatula.
Reduce temperature from medium-high heat to medium.
Top frittata with shredded cheese and sprinkles of pesto.
Bake uncovered in the oven until the center is set and not jiggly, around 20 minutes.
While the frittata is in the oven, sauté sliced cherry tomatoes in a pan with garlic, Italian seasonings, and salt and pepper.
Simmer until soft, around 5 minutes.
Once the frittata is cooked, remove it from the oven and cut circular or pie-shaped pieces onto a plate, then top with sautéed tomatoes.
Enjoy!