We are stopping by Christopher's Haven for a fun day of cooking! On today's menu…vegan flautas! A classic Mexican dish that is easy yet delicious! Click above to watch as we bring this recipe to life!
Vegan Flautas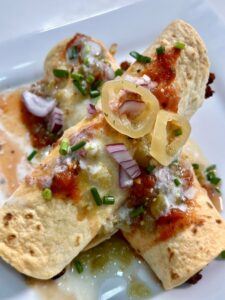 Get ready for some FLAVA! This flauta recipe is sure to be your home's
next favorite! No one will believe it's vegan!
    Total Time 30 mins
      Servings 4-6
                     Vegan Flautas Ingredients
1 pack of corn or flour tortillas
Plant based meatless crumbles (I like the Simple Truth brand)
1 can black beans
1 can roasted tomatoes
1 pack of your favorite taco seasoning
Salt + pepper
Dairy free shredded Mexican cheese or preferred cheese
Diced red onion for topping
Chopped cilantro or chives
Pickled jalapeños
toothpicks (optional)
                        Directions
Preheat oven to 325° degrees.
In a large sauté pan, heat a drizzle of olive oil and add meatless crumbles.
Cook until crumbles have defrosted then season with salt and pepper.
Add can of black beans, taco seasoning and roasted tomatoes. Stir to combine.
Let simmer together for about 5 minutes then set aside.
Prepare corn or flour tortillas on a baking sheet.
Add a decent amount of vegan filling to the middle of tortilla followed by shredded dairy free cheese.
Starting from one side begin to roll tortilla over itself until it is secure. (You can secure with a toothpick if you like).
Once all of your flautas are rolled, brush the top with olive oil and place in oven for 20 minutes or until flautas are slightly golden.
While flautas are cooking prepare your toppings.
Once flautas are done cooking, transfer to a plate and top with tomatillo salsa, red salsa, dairy free crema, chopped red onion, pickled jalapeños and sprinkle with chopped chives.
You can serve with guacamole or add guac on top depending on your preference. Enjoy!
                     Tomitillo Salsa Ingredients
1 bag of tomatillos
1/4 cup of water
Salt + pepper
1 jalapeño (optional)
                    Directions
Peel and dice tomatillos.
Add to a medium large sauté pan over medium high heat.
After about 5 minutes, a liquid should be released.
Using a masher, mash tomatillos until smooth.
Add water and stir. Let simmer for 5 more minutes.
Season with salt and pepper.
If you want to make your salsa spicy, add chopped jalapeños while tomatillos are cooking.
                    Dairy Free Crema Ingredients
1/4 cup dairy free sour cream (I like the brand Tofutti)
1 tablespoon chopped chives
3-5 tablespoons of water
                    Directions
In a small bowl, combine dairy free sour cream, chives, and water.
Combine until smooth and you're done! (optional to add salt and pepper)

Guacamole Ingredients 
4-5 ripe avocados
1/2 cup red onion
2 medium tomatoes
1 fresh lime
3 tablespoons chopped cilantro
salt + pepper to taste
                   Directions
Cut and deseed avocados and add to medium sized bowl.
Mash avocados with a fork or masher.
Add diced onion, diced tomatoes, cilantro, salt, and pepper then combine.
Serve on the side or on top of flautas and enjoy!