Whole 30 recipes can eliminate inflammation and cravings while improving gut and hormone health!
Click above to watch these flavorful whole 30 recipes come to life PLUS learn some tips on how to buy your very first home! 
Whole 30 Friendly Roasted Red Pepper Soup
The perfect soup for any occasion! Full of flavor and Whole 30/Paleo friendly!
Total Time 60 mins
Servings 4-6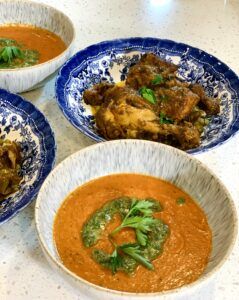 Ingredients
6 red bell peppers

 

1/3 cup jarred or canned roasted red bell peppers

 

2 tablespoons olive oil

 

1 yellow onion
3 cups vegetable stock

 

5 gloves of crushed garlic
juice from half a lemon
11/2 tablespoons salt

 

1 tablespoon pepper

 

 

1 1/2 teaspoon of paprika

 

sprinkle of red pepper flakes

 

1 13.5oz can of coconut milk

 

1 small bunch of thyme

 

1 small bunch of rosemary

 

1 diced shallot
1 tablespoon garlic powder
1 tablespoon onion powder
parsley for garnish
 Directions
Preheat oven to 450 degrees.
Chop six red bell peppers into 1 inch slices removing seeds then transfer to baking sheet. You might need to use two sheets depending on size.
Drizzle peppers with olive oil then season with salt and Italian herbs.
Let peppers cook in the oven for 30 minutes or until lightly charred.
Chop onion and add to large pot with a little EVOO (olive oil) cooking until onions are soft.
Once peppers are done, add them to the pot with jarred peppers, veggie stock, coconut milk, rosemary, thyme, culantro, garlic, lemon and shallot.
Next we season! Add salt, pepper, paprika, red pepper flakes, garlic and onion powder.
Combine and simmer everything on medium heat for 20-30 minutes.
Remove stems left behind from the rosemary.
Emulsify soup using an immersion blender or blender until smooth.
Top with fresh pesto, parsley and enjoy!
Fresh Pesto
Fresh pesto that's easy, tasty and Whole 30/Paleo friendly!
Total Time 5 mins
Servings 4-6
Ingredients
2 cups basil

 

1/4 cup walnuts or pine nuts depending on what's avaliable

 

juice from half of lemon

 

1 cup olive oil

 

5 cloves garlic

 
Directions
Add basil, walnuts, lemon juice, garlic, and half of olive oil to blender.
Blend on medium/high speed adding remaining olive oil as you blend.
That's it! Use to top roasted pepper soup or add to any dish!
Whole 30 Curry Chicken over Cauliflower Rice Medley
Get ready for some serious flavor! This curry chicken recipe is sure to be your next favorite! 
Total Time 45-55 mins
Servings 4-6

Ingredients
4 tablespoons curry powder (2 for chicken rub and 2 for curry sauce)
1 tablespoon all purpose seasoning
1 tablespoon adobo seasoning
1 tablespoon tumeric

 

1 yellow onion

 

5 cloves garlic
3-4 lbs chicken thighs and legs
1/2 cup veggie stock

 

1 14 oz can of coconut milk

 

2 stalks rosemary

 

2 stalks thyme

 

1 small bunch of culantro or cilantro
1 1/2 tablespoons ginger

 

1 small habernaro pepper (adds great flavor)
1/4 cup green onion or scallion
cauliflower rice medley (recipe below)
Directions
Cut chicken thighs and legs into quarters. You can use chicken breasts instead but they can sometimes be a little dry.
Transfer chicken into a large bowl then add 2 tablespoons of curry powder, adobo, and spiced all purpose seasoning and combine until chicken is completely covered.
Cover and place in fridge for at least 30 minutes. Ideally overnight but life happens.
Heat 2 tablespoons of olive or cooking oil in a large pan over medium high heat.
Place an even layer of chicken into the pan and cook on both sides for 5 minutes.
Once the chicken is seared, remove from pan and set aside in a bowl.
Save the yummy chicken juices in the pan and add a 1-2 more tablespoons of olive oil.
Add the remaining 2 tablespoons of curry powder and 1 tablespoon of turmeric to pan. Cook until fragrant about 5-8 minutes.
Add onions to pan covering them in the leftover spices and juices. Allow the onions to simmer until soft around 5 minutes.
Add crushed garlic to pan and simmer together for one minute.
Follow with coconut milk, rosemary, thyme, and culantro.
Finish with vegetable stock and habanero.
Place chicken back into the pan with curry sauce making sure to add any chicken juices left in the bow back into the pan.
Sprinkle chopped scallions then cover with lid. Allow chicken to simmer for 30 minutes on medium heat.
Remove lid and simmer on low for 10 more minutes or until chicken is tender enough to fall of the bone.
Garnish with fresh parsley, serve with cauliflower rice (recipe below) and enjoy!
Cauliflower Rice Medley
You won't miss rice with this yummy cauliflower rice recipe! Guilt free and full of flavor! 
Total Time 10 minutes
Servings 4-6
Ingredients
2 tablespoons of olive oil

 

1 bag of cauliflower rice

 

4-5 medium carrots chopped

 

1/2-1 can of canned peas

 

salt+ pepper to taste

 

onion & garlic powder
3 cloves garlic

 
Directions
Heat two tablespoons of olive oil in a medium sized pan.
Add chopped carrots and cook on medium heat until carrots soften.
Next we add the cauliflower rice stirring everything until combined.
Hydrate with vegetable stock then cover with lid allowing to cook for 5-8 minutes.
Add peas and cook for 2 more minutes or until peas are warm.
Season with onion and garlic powder then serve with curry chicken!