Best Quick Lemon Bars!
This episode is all about relaxation! Licensed massage therapist, Bridget Smith Hayes joins to me show a few quick and easy massage techniques you can do at home PLUS we make some delicious lavender chamomile lemon bars that are sure to leave you relaxed! Enjoy! Click above to watch.
Delicious Lavender Chamomile Lemon Bars Infused with CBD
The perfect combination of sweet and tangy. Plus, the lavender, chamomile, and CBD
take these bars to another level!
Total Time 50 mins
Servings 6-8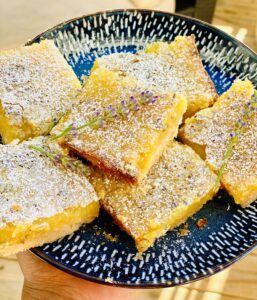 Crust Ingredients
2

cups

all-purpose flour or gluten free flour

2 sticks plant based butter, softened

½

cup

powdered sugar

½

teaspoon

vanilla extract

1 dropper of cbd oil
Filling Ingredients
2

cups lavender 

sugar (1 tablespoon lavender + 2 cups sugar)

4

large eggs

6

tablespoons

freshly squeezed lemon juice

4

tablespoons

flour

2

tablespoons

freshly grated lemon zest

1

teaspoon

vanilla extract

3 tablespoons of lavender chamomile syrup

3 dashes of salt
Lavender Chamomile Syrup Ingredients
3 cups water

2 cups sugar
1 tablespoon lavender
1 lavender chamomile tea bag
 Directions
First, combine sugar and lavender into an air-tight container preferably glass, and set aside. (For an even stronger lavender flavor, set aside for a couple of days).

Preheat the oven to 350 degrees.

In the bowl of your electric mixer, add flour, butter, powdered sugar, vanilla extract, and CBD oil until combined. The dough should become crumbly.

Empty bowl into a 9×13 inch baking dish. Using your hands, create an even layer of crust.

Bake for 20 minutes or until the crust is lightly brown.

While the crust is baking, rinse the mixing bowl then beat together the 4 eggs until combined.

Add lemon juice, lavender sugar, flour, lemon zest, vanilla, lavender chamomile syrup, CBD oil, and salt until combined.

Pour our delicious filling over the crust.

Bake together for 25 to 30 minutes on 350 degrees, until the top is set. (It shouldn't jiggle too much)

Dust lemon bars with powdered sugar then pop them in the fridge for about 15-20 minutes.

Slice into squares. When plating, feel free to dust with more powdered sugar and top with fresh lavender for a little extra pizzazz 💫  Enjoy!
Note: If you don't have dried lavender, lavender extract can be used as a replacement!  1/2 teaspoon in the filling should do as well as with the syrup.